In my last post, I'd mentioned Trinca's, which is still with us. There are some lovely stills about Trinca's over here, and I'm not repeating them in this post.
Trinca's was very important to me in my school and college days. I was just discovering rock and pop and in my midteens, I'd was listening to the Beatles, the Rolling Stones and other such bands, and on my first visit to Trinca's, I discovered that there were a bunch of kids slightly older than me who were playing such music live in Calcutta! Their names still make my eyes go wet, and my right hand stretches out for the beer or whisky glass, just like the Sage in Wodehouse's golf stories: The Flintstones, Nondon Bagchi, the late Carlton Kitto, Noel Martin, and many others.
And of course, the incredible, the indefatigable and the ever-youthful Usha Uthup. She was fabulous when I first heard her all those decades ago at Trinca's; she was still fabulous when I saw her on TV some time ago.
My interest in rock and pop was sparked by the BBC World Service (on shortwave) – I used to switch on the radio when I came home from school and I still remember hearing "Have you seen your mother baby, standing in the shadows" by the Rolling Stones – and a magazine called "Junior Statesman", launched by The Statesman newspaper. This was possibly India's first youth magazine, and the writers were young, brash, full of attitude and seemed to love the kind of music I was starting to love myself. Soon renamed "JS", it also ran the Modesty Blaise cartoon series – I became a lifelong fan of this as well.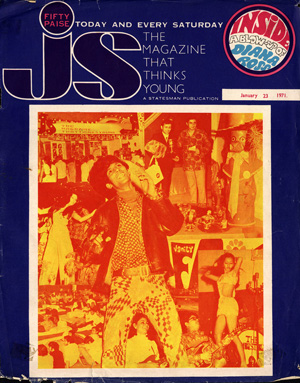 I was appearing for my Higher Secondary Finals exams in 1967, and I'd told my dad that I wanted every single copy of JS, as it was always called by the cognoscenti, waiting for me when I came home after the final paper. When that milestone was crossed, I found my mum welcoming me home with all the copies of the paper in her arms. That was one of the best presents I ever got.
The other restaurant on Park Street which meant a lot to me and my friends in the 1970s is now sadly gone – Blue Fox. There we could hear some great live jazz – the band had Pam Crain, Louis Banks, Braz Gonsalves and others; visiting jazz musicians also dropped by and jammed with the band. My old IIMC batchmates will recall us donning suits (largely borrowed; always so in my case), catching the old bus from Paikpara to come to Park Street on Friday evenings, trudging up Part Street to Blue Fox, somehow cadging a table as close to the band stand as we could, order a couple of beers among the seven of us, being equally frugal with the food, and leaving once the band packed up and the restaurant shut down for the night. Our evening out usually ended with a long, healthful trudge up Chowringhee via Upper Circular Road all the way up to Emerald Bower. When the gods smiled upon us, we could perhaps persuade a cabby to drop us somewhere on the way.
The very thought now makes me thirsty. I shall go and something about it – I shall be back.